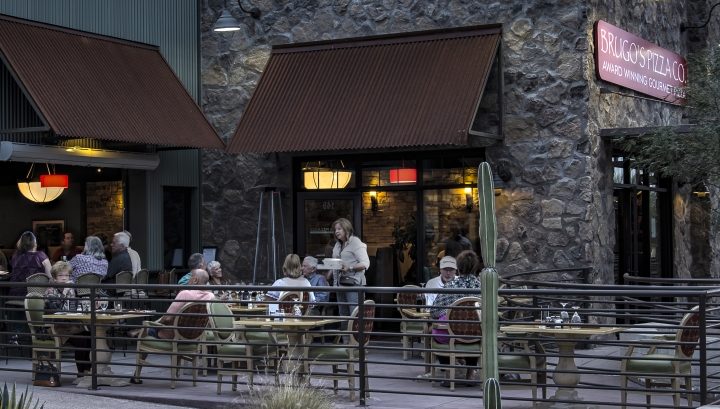 Troy & Christina McDonald started their first Brugos in Carson City, Nevada. The tiny bistro went over well, and soon after won Best Pizza in Northern Nevada. Always wanting to open a Brugos in Arizona, the couple once again decided to try their luck and opened Brugos here.
What's really important is everything you will find on the menu is made from scratch. We use only the finest ingredients, fresh locally procured vegtables and meats, imported cheeses and pure virgin Italian olive oil. There are no short cuts here, and your pizza is not a pizza until you order it!
Each evening we feature a beautiful dinner special such as Chicken Marsala, Shrimp Scampi, Porcini Mushroom Ravioli, Chicken Picatta, or Parmesan Pecorino Mozzarella Ravioli and Chicken Parmesan.
We also serve the very best Pasta Dishes and homemade lasagnas, made from Christina's Sicilian CEFALU Family recipes! (Hint: You just have got to try the Spaghetti & Meatballs! Bella!)
Be sure to come in and GRAZIE!
Troy & Christina (Cefalu) McDonald
We also offer PIZZA and most items on our menu and TAKE N BAKE PIZZA to go!
Store Info
Website: brugospizza.net/
Phone: 480-575-3044
Hours: 
Every Other Day 400-  9 PM!